Who: This is designed for everyone!
Purpose: A Virtual Exercise Class for Adults 50+ and Seniors
Join Meg Stickl from AIM Fitness and get motivated and prepared for all of your spring activities and hobbies! We know summer is right around the corner, and it's important to strengthen and stretch your body so you can do everything with ease and to prevent injury.
Whether you are a golfer, gardener, or enjoy getting outside for walks, there are things you can do NOW to be in your best shape this summer!
No equipment required! Wear comfortable workout apparel and running shoes. The class will include seated and standing exercises, so have a chair handy!
When: Wednesday June 16, at 1pm EDT
Cost: FREE
Where: In your living room through Zoom.us
Who: This is designed for everyone!
Purpose: Do you want to stay in touch with family and friends but don't know how to use the technology?
As we are all required to maintain social distancing, online technology has become increasingly important.
This training will not only equip you to use the technology yourself, but we hope that you will also be able to train others!
This training will be ongoing throughout the coming months. Register for more details.
When: Ongoing
Cost: FREE
Where: In your living room through Zoom.us
Who: Everyone is invited.
Purpose: Social distancing doesn't mean we can't be social! Freiheit Care Inc. invites you to join us for some interesting conversations and a chance to make new friends, from the security of your own home.
You bring the coffee and the conversations, we just facilitate it. Nothing will be recorded and this is a great opportunity to stay connected during the pandemic.
When: Every Wednesday at 10:00 a.m.
Cost: FREE
Where: In your living room through Zoom.us
Financial fraud is the number one crime against older Canadians. This webinar equips you to recognize the signs and to avoid becoming the next victim.
We partnered with More Than Enough Financial Fitness for this important webinar.
Dave and Reb from the local "Let's Talk Money" podcast spoke to the heart of a challenging issue in the lives of Canadians. Fraud and scam artists are targeting Canadians and it is big business. In 2020 alone, Canadians lost over $27 million to scammers. In this session, Dave and Reb offered practical tips on how to become scam proof and offer hope in resisting what has become a harsh reality for many of us.
Useful Resources:

Canadian Anti-Fraud Centre
1-888-495-8501
1-800-348-5358
Yuchen received his Bachelor of Music in Violin Performance from Wilfrid Laurier University studying under Jerzy Kapłanek and the Penderecki String Quartet. He also holds an ARCT Diploma in Violin Performance from the Royal Conservatory of Music.
He has performed with the Windsor Symphony Orchestra, the National Youth Orchestra of Canada, and is currently a member of the World Doctors Orchestra. Yuchen enjoys playing chamber music with friends and was recently invited to perform at the Oberstdorfer Musiksommer Festival in Germany with his string quartet.
He is currently pursuing a Doctor of Medicine at the University of Ottawa Faculty of Medicine.
Brought up in a rich musical environment in Rio de Janeiro, Fernanda Cunha began her career in 1997 and has since toured Brazil, Europe and North America, performing at prestigious international jazz festivals.
Regular appearances at jazz festivals in Canada have helped to carve out a whole new fan base for Cunha's post-bossa groove, and she repaid the compliment with her CD Brasil-Canada, released in 2009. She lives in Ontario, Canada.
Heidi entertained us with a variety of classical and contemporary pieces. It was a beautiful way to start the week.
Heidi says: "Music expresses emotions when words fail – both for the listener and for the musician."
Music and medicine are her two greatest passions. She is currently in her fourth year of medical school at the University of Ottawa. In her spare time, she is also a professional pianist and a piano teacher. She started her journey in piano aged 5, studying in the Royal Conservatory of Music and achieving her Associate Diploma in Piano Performance at the age of 16. Since then she has played as a volunteer in various hospitals in Ottawa, performed for over 20+ retirement homes across Ottawa, and worked as a freelance pianist for weddings and events.
Heidi adds "Music has gifted me the unique opportunity to connect with people from all different walks of life and experiences – from death, sickness, grief to marriage, happiness and celebration – and for this, I am so grateful."
Music with Nigel E. Harris
Singer/songwriter, producer, and music teacher Nigel E. Harris entertained us with well known songs. His business, Musical Wellness, is a catalyst for creating what he calls 'love made visible', the positive energy shift visible with people through the power of music. We all experienced this!
Nigel also teaches music online. Before the pandemic he regularly shared the power of music with seniors' homes, hospitals, and group homes for developmentally disabled individuals. He was the musical director of a singing group for home-based early Alzheimers patients and their caregivers, through the Alzheimer Society of Ottawa and Renfrew County.
Dai Bassett is a singer, songwriter, emcee, and entertainer. Dai's many awards, accolades and positive reviews speak to his breadth of talent and ability to delight audiences everywhere. This "Welsh Guy with a Big Smile" has the rare gift of ensuring audiences are always entertained, thanks to his witty personality and ability to break into song, dance, or hilarious comedy. Dai has a special place in his heart for senior citizens and normally performs 300+ shows a year, including in retirement homes.

Retirement Living in the Age of Covid-19
Geraldine Dixon from Chartwell Retirement Residences gave this webinar presentation on the topic of retirement living during the COVID-19 pandemic. She told us about the wonderful initiatives taken by the staff and residents in the Chartwell retirement homes during the past few months. The presentation was followed by a Q&A session.
For any specific questions about the presentation, you can contact Geraldine Dixon here.
A joint webinar with the Nepean, Rideau and Osgoode Community Resource Centre, Christian Counselling Ottawa and Freiheit Care.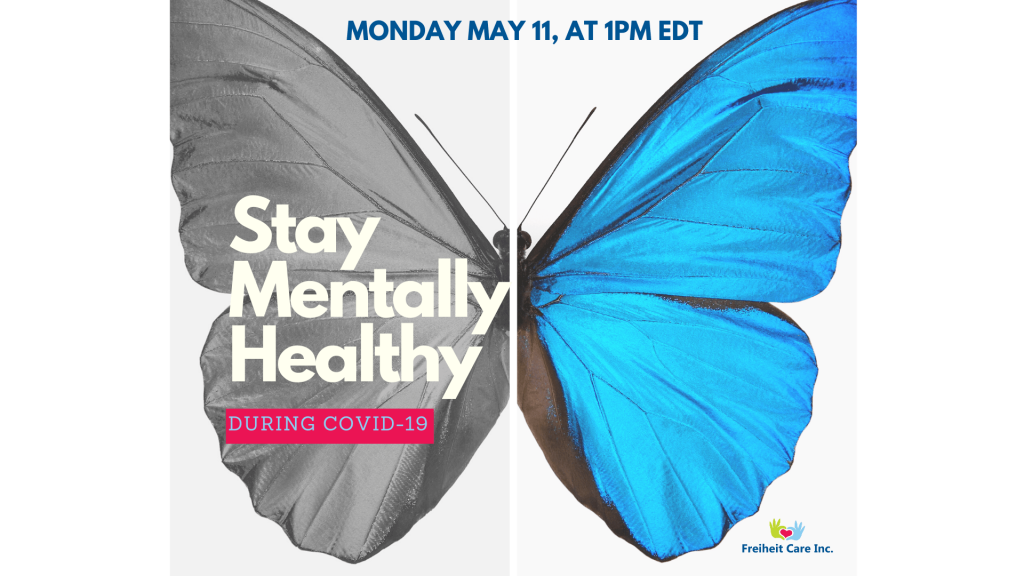 An exploration of the journey of coffee, from seed to cup.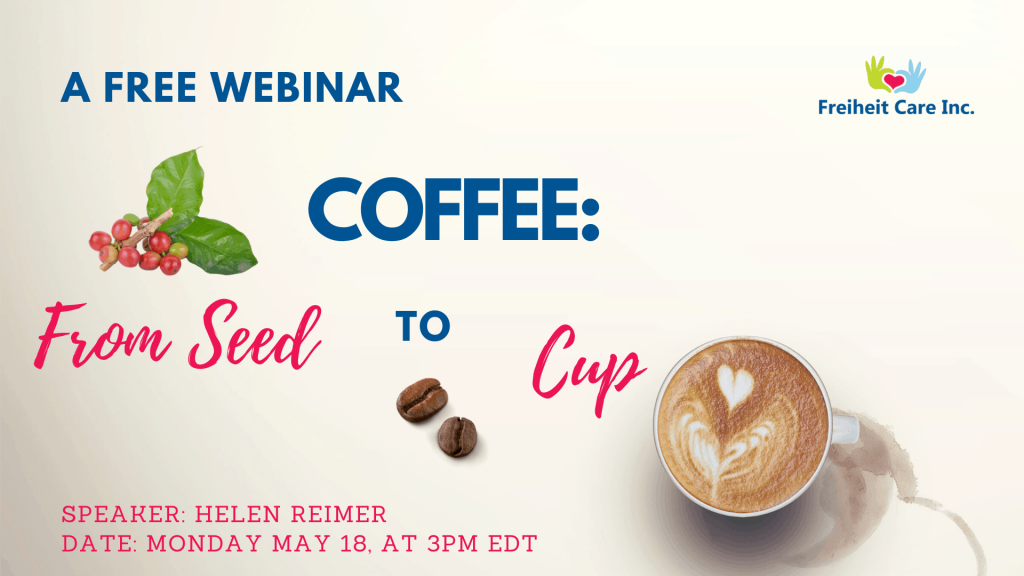 Jacob Moon gave a few concert over Zoom.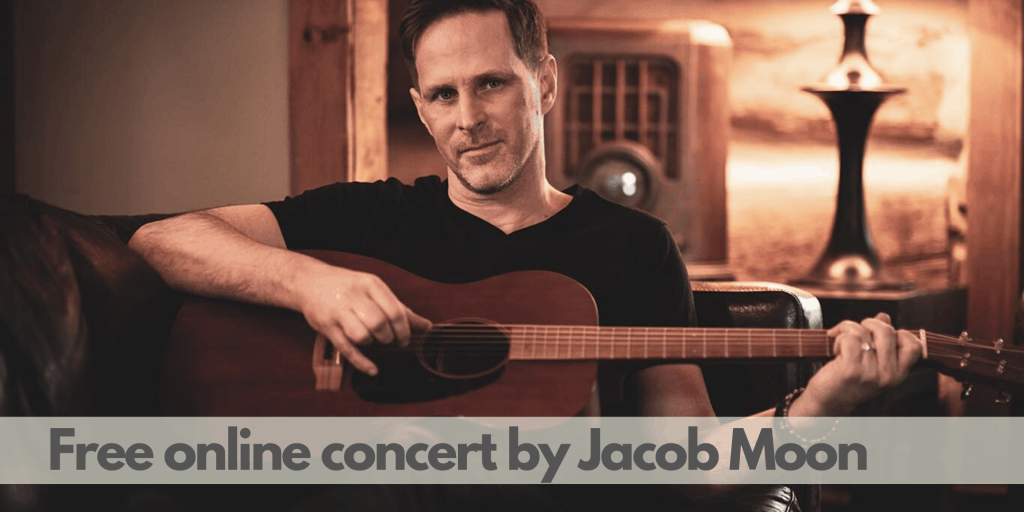 Staying Safe from Covid-19
Dr. Mark Reimer answered questions on Covid, from a medical perspective.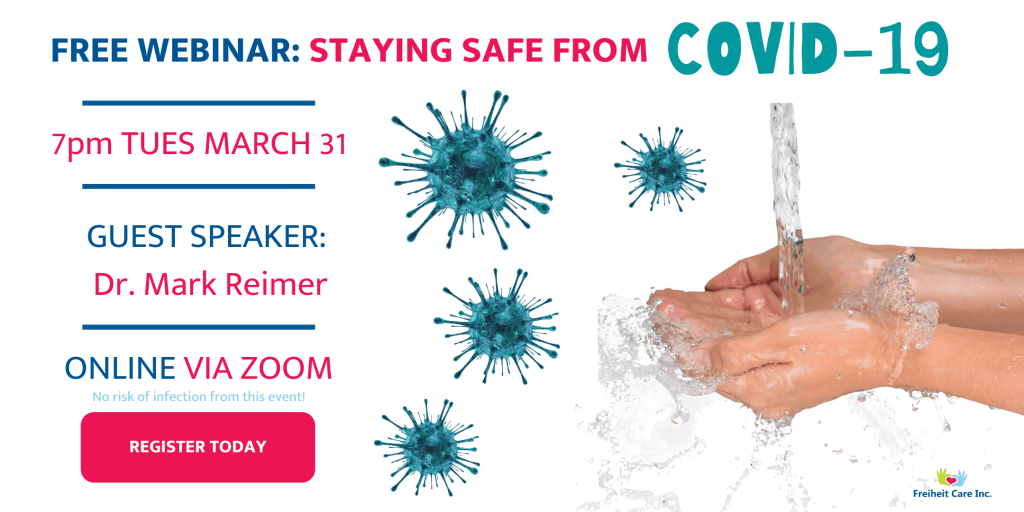 Kinesiologist Spencer Rodd presented on fall prevention strategies and discussed some solutions and possible funding options.
Dean Henderson, Director of Client/Clinical Services from The
Dementia Society
of Ottawa and Renfrew County provided an overview of the brain, dementia and aging.
Meg Stickl, from
Activities in Motion
gave practical ways to stay healthy, no matter your age or disability.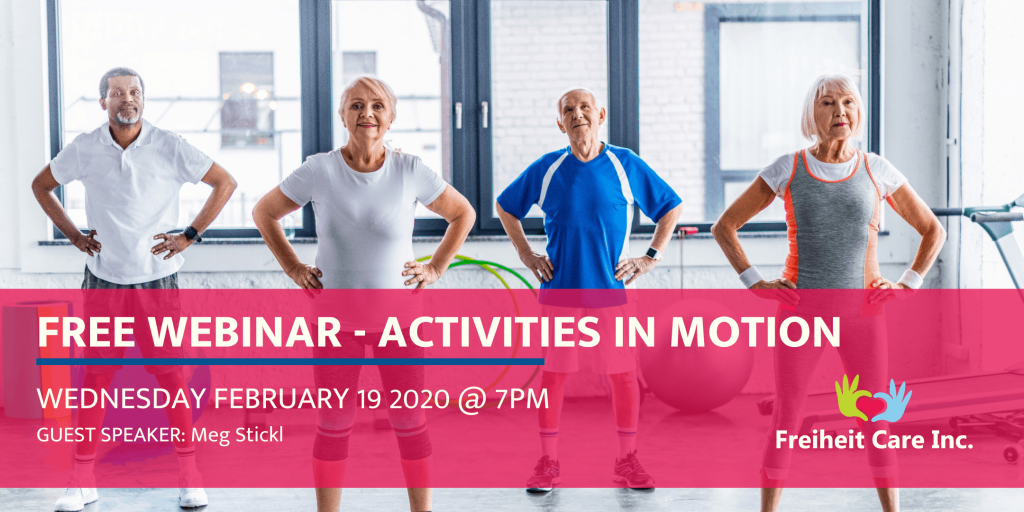 During this pandemic we know you want to reduce the risk of infection. That's why our number one package offers exclusive caregivers, who only work with one client.
We are a family business, based in Ottawa. We are dedicated not only to giving you premium quality care, but also to valuing and investing in our staff. We believe you will notice the difference when you choose to work with us.