Who: Everyone is welcome!
Purpose: Dai Bassett is a singer, songwriter, emcee, and entertainer. Dai's many awards, accolades and positive reviews speak to his breadth of talent and ability to delight audiences everywhere. This "Welsh Guy with a Big Smile" has the rare gift of ensuring audiences are always entertained, thanks to his witty personality and ability to break into song, dance, or hilarious comedy. Dai has a special place in his heart for senior citizens and normally performs 300+ shows a year, including in retirement homes.
During this webinar presented by Freiheit Care, Dai will be performing some all-time musical favourites you are sure to know, and sharing some of his Welsh charm with you through songs and story telling. Singing along is encouraged! We hope you can join us!
When: August 31st, 2:00 PM (EDT)
Cost: FREE
Where: In your living room through Zoom.us
Who: This is designed for everyone!
Purpose: Do you want to stay in touch with family and friends but don't know how to use the technology?
As we are all required to maintain social distancing, online technology has become increasingly important.
This training will not only equip you to use the technology yourself, but we hope that you will also be able to train others!
This training will be ongoing throughout the coming months. Register for more details.
When: Ongoing
Cost: FREE
Where: In your living room through Zoom.us
Who: Everyone is invited.
Purpose: Social distancing doesn't mean we can't be social! Freiheit Care Inc. invites you to join us for some interesting conversations and a chance to make new friends, from the security of your own home.
You bring the coffee and the conversations, we just facilitate it. Nothing will be recorded and this is a great opportunity to stay connected during the pandemic.
When: Every Wednesday at 10:00 a.m.
Cost: FREE
Where: In your living room through Zoom.us
A joint webinar with the Nepean, Rideau and Osgoode Community Resource Centre, Christian Counselling Ottawa and Freiheit Care.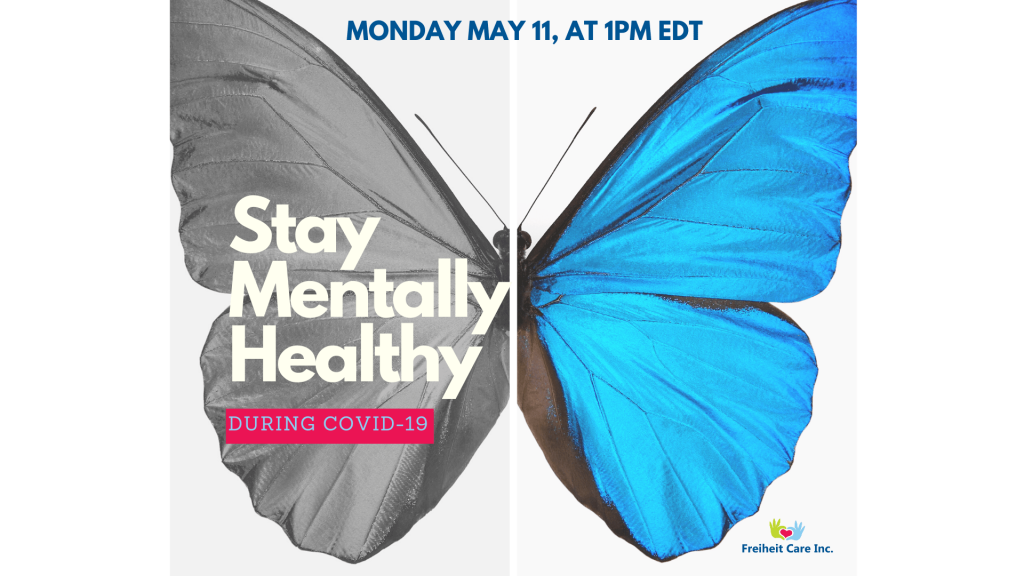 An exploration of the journey of coffee, from seed to cup.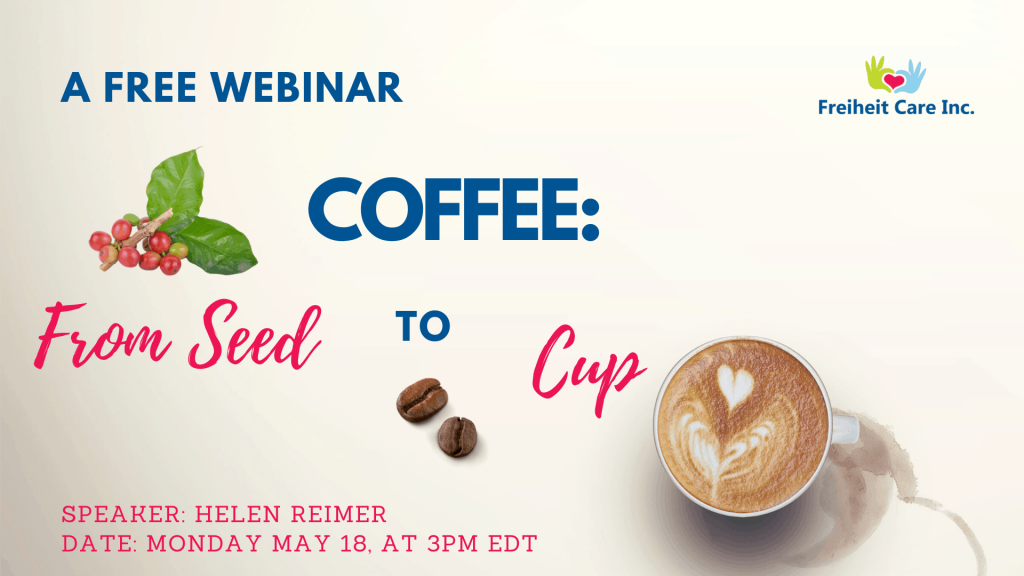 Jacob Moon gave a few concert over Zoom.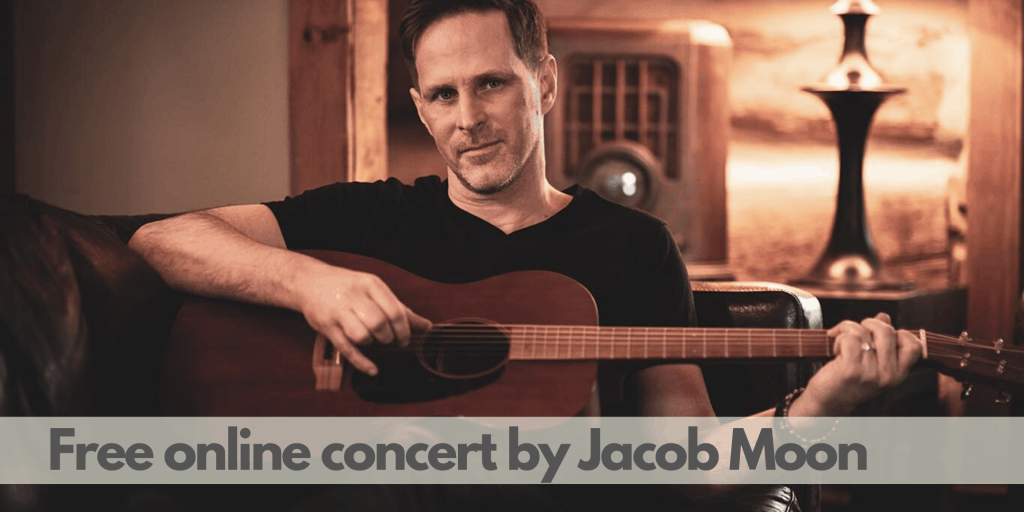 Staying Safe from Covid-19
Dr. Mark Reimer answered questions on Covid, from a medical perspective.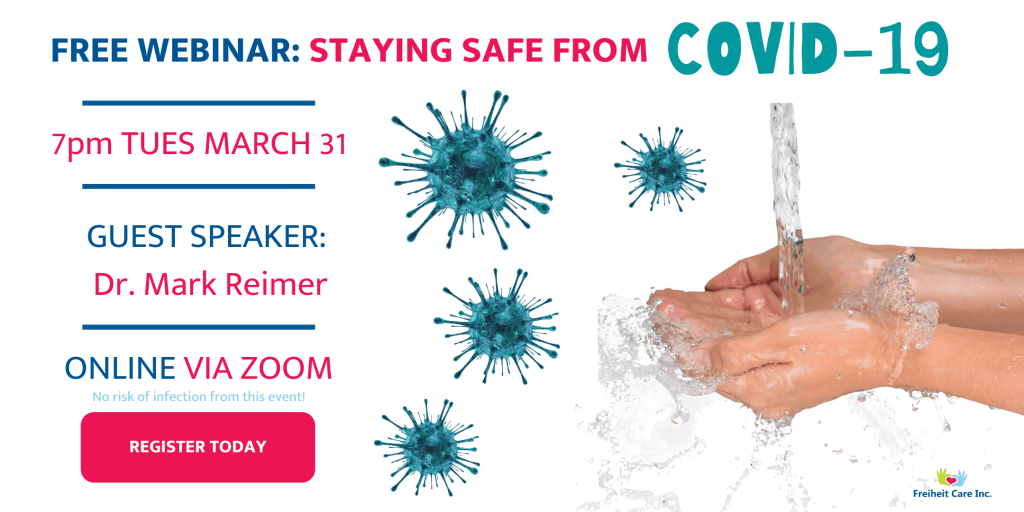 Kinesiologist Spencer Rodd presented on fall prevention strategies and discussed some solutions and possible funding options.
Dean Henderson, Director of Client/Clinical Services from The
Dementia Society
of Ottawa and Renfrew County provided an overview of the brain, dementia and aging.
Meg Stickl, from
Activities in Motion
gave practical ways to stay healthy, no matter your age or disability.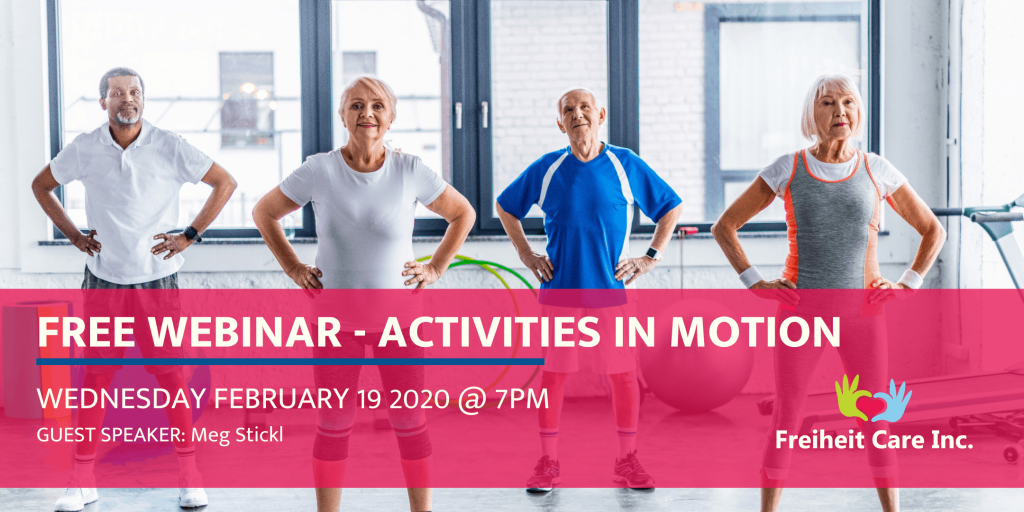 During this pandemic we know you want to reduce the risk of infection. That's why our number one package offers exclusive caregivers, who only work with one client.
We are a family business, based in Ottawa. We are dedicated not only to giving you premium quality care, but also to valuing and investing in our staff. We believe you will notice the difference when you choose to work with us.